I am a freelance Meteorologist and Extreme Storm Chaser, and an owner of Going Live Media and StormViewLIVE. Read More
Be sure to follow me on my social media to stay up to date when I go LIVE
StormChaserIRL on Twitch.tv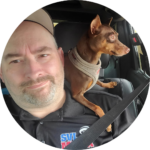 "I have always been addicted to thunderstorms and tornadoes ever since I was a youngster. I have chased in my spare time off and on for nearly 30 years, but within the last couple of years decided to change the course of my life to follow my dreams and show my chasing to the world.
StormChaserIRL on YouTube
Please subscribe to my channel as this is another way you can can support me. Its FREE.
https://www.youtube.com/c/StormChaserIRL
My chase VODs as well as highlights will be uploaded there for viewing.
If for any reason Twitch is unavailable, I will stream LIVE on my YouTube page.