StormChaserIRL on Twitch.tv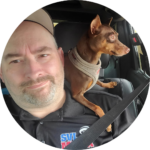 "I have always been addicted to thunderstorms and tornadoes ever since I was a youngster. I have chased in my spare time off and on for nearly 30 years, but within the last couple of years decided to change the course of my life to follow my dreams and show my chasing to the world."
You can support me for FREE by linking your Amazon Prime with your Twitch account and subscribing.
You can also support me by visiting either of the following:
All donations go to improve your experience on my channel, such as equipment upgrades for stream quality.
This helps get me out there more often to help the public and bring the awesome power of the plains storms to you.
Thanks for your support to our community.
Purchase high quality branded apparel and accessories from StormChaserIRL.
Every merch purchase includes a special alert message on StormChaserIRL's stream!
Join the Cat5 FOG Group on Discord. Special perks for subscribers! Link your twitch to discord to access these perks. Cat5 FOG Group
You like storms? Crazy storms? You like insane storms?  Well you've come to the right place.
This is a little bit about what goes on in our channel.